A New Process of Urbanization
The modern city is littered with contradiction. Humanity has developed a system of urbanization, which has the ability to create awe-inspiring structures and networks. Vast urban expanses stem from mountain-like centers of social and economic power where society's remarkable ingenuity and problem-solving adeptness are on full display. The contradiction lies on the fringe of these urban centers—spaces, which are commonly plagued by structural decay, poverty and pollution. Today, we have pushed the globally remaining wilderness aside to 23.2% of all terrestrial land. [1] The modern reaction has been to protect and conserve: an additional 13% of terrestrial land is classified as legally protected. [2] These solutions rest on a conception of nature as an object, in the etymological sense of the original objectus: something that is exterior and independent of humans, and which now should be protected from them so as to survive.
URWI presents, therefore, a strange assertion: Urban Wilderness. By connecting two seemingly opposite realms, the concept challenges the premise of urbanization by reframing it around the reinstitution of nature. [3] To us, wilderness encompasses more than a beautiful view. URWI is grounded on the main principle that humans are not separate from nature, but that we are of it. To put this principle into practice, we have chosen to lend a voice to nature itself. URWI envisions a new process of urbanization that closely follows four guiding principles: Accessibility, Unity, Diversity and Cyclicity. In order to depict how this process may begin to manifest, we have created a snapshot design, a display of how the URWI process could be presently implemented.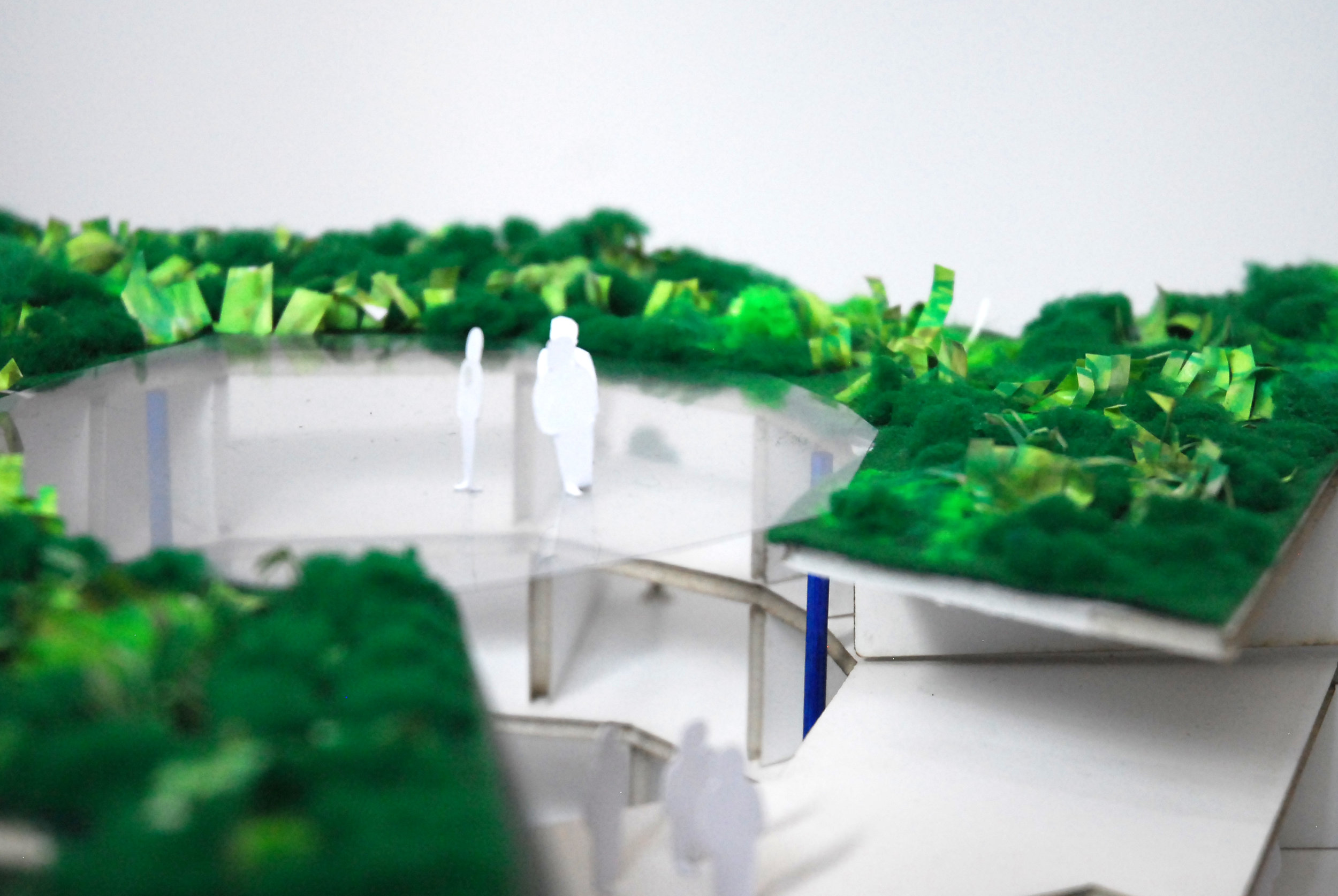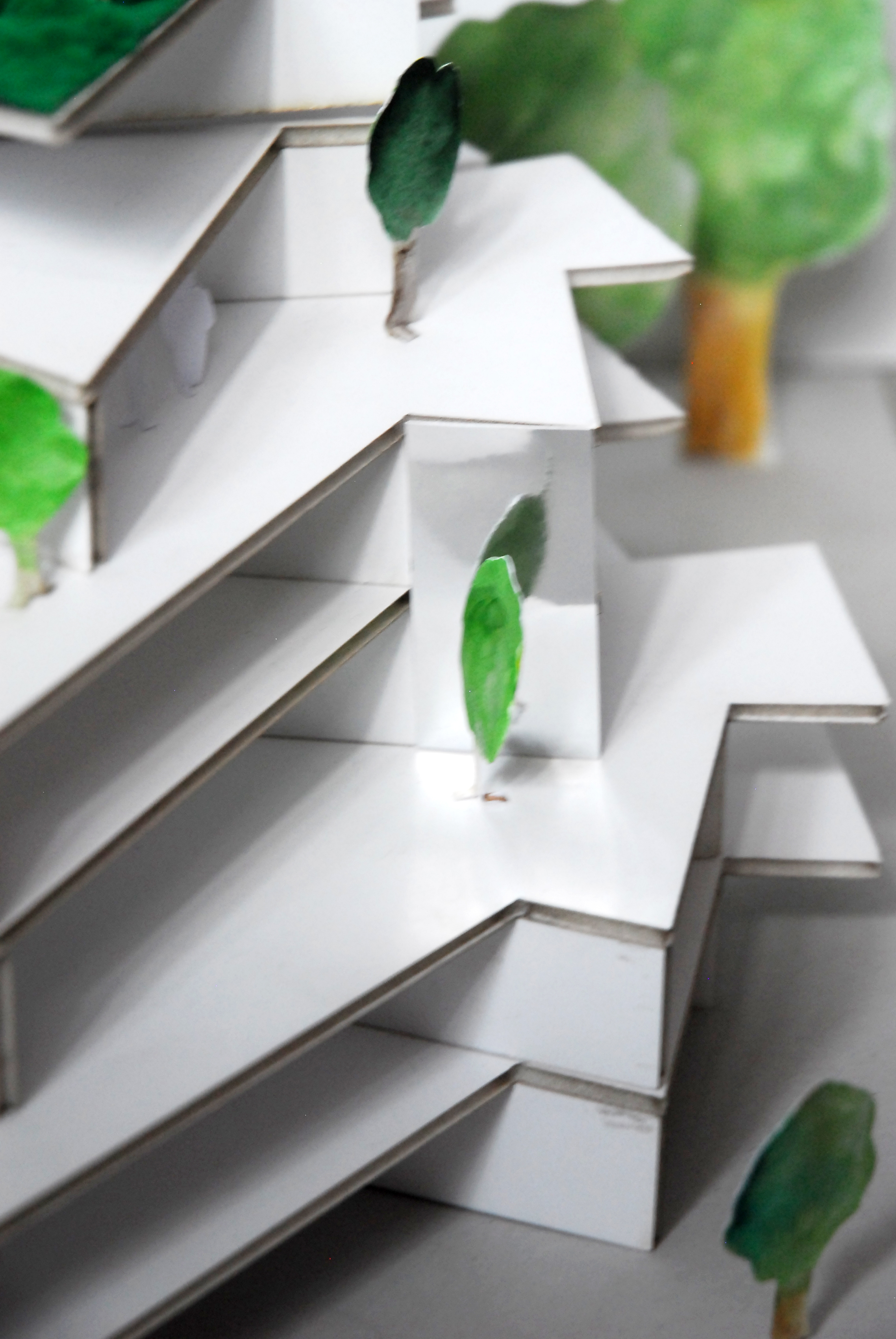 VISIBILITY OF WATER
The 'wetland roof' design captures, filters, and stores stormwater. Greywater is recycled and reused for irrigation of gardens. The majority of water used by residents is filtered on site by natural processes. The visibility of these processes encourages conscious use and recognition of precious water resources.
 
CYCLES & FLOWS
Materials are as locally sourced as possible. Biodegradable and recycled materials help to reduce and eliminate accumulation of waste. The cyclic shape of the building and the use of mirrored façades seek to blend the building into its natural surroundings and serve as a constant reminder of the presence of nature.
RESTORATION THROUGH URBANIZATION
The revitalization of nature in brownfield sites mitigates problems of pollution and habitat loss. Bringing the URWI process to these sites restores vital ecological functions through our new beneficial process of urbanizing.

ADJACENT FOOD AND ENERGY PRODUCTION
A combination of aeroponics, aquaponics and permaculture will provide food year-round, eliminating the detrimental effects of industrial agriculture. The design utilizes thermal storage to maximize energy efficiency. A combination of compacted soil wails, wetland roof and redistribution of solar excesses from greenhouses provide a natural air-conditioning system that keeps energy input to a minimum. Furthermore, the vast amount of green spaces contributes to carbon dioxide sequestration, while also producing oxygen.